NFL Strength of Schedule rankings
Strength of schedule rankings measure how easy or difficult an NFL team's opponents are either expected to be or how difficult they actually were. Strength of schedule is an important metric in the NFL as it can the quality of a team's opponents can play a major role in the number of wins they ultimately achieve. Intuitively, teams playing an easy schedule tend to have a much better chance of making the playoffs even if they aren't actually that great of a team themselves. Conversely, teams who play a tough schedule are more likely to miss the playoffs even if they are actually pretty good.
As a result, the NFL tries to makes schedules as "fair" as possible, with each team's schedule following a universal set of constraints. Each team will face:

Six games against the three other teams in their division (ie three division opponents, played twice)
Four games from a different division in their conference
Four games from a division outside of their conference
Two games from the remaining two divisions in their conference
One final out of conference game against an opponent that does not fit any of the groups above
With this structure, each team is guaranteed to play a solid mix of good and bad teams. However, even with this structure there is ample room for differing levels of difficulty between teams, which is why measuring strength of schedule rankings can be a useful practice.
Measuring Strength of Schedule
Since strength of schedule is typically a projection, the way it's calculated has a significant baring on how accurate you can expect the projection to be.
One of the most common ways to measure strength of schedule is to look at a team's upcoming schedule and measure the combined winning percentage of their opponents from the previous season. While this provides a decent directional measure, it ignores the fact that teams change in quality from one season to the next. For instance, the Tampa Bay Buccaneers went 7-9 in 2019, but then acquired Tom Brady from the New England Patriots in the off-season and went 11-5 before ultimately beat the Kansas City Chiefs in the Super Bowl. If you only considered the prior year's standings, you'd underestimate the strength of schedule for all the teams that played the Bucs in 2020.
To get around this issue, some have adopted the approach of using projected win totals instead of previous year winning percentage to measure opponent quality. Since win totals are a forward looking projection, they produce more accurate schedule projections.
Even still, this approach has its drawbacks. Win Totals have different implied cover probabilities based on the prices set by the market. For instance, if the San Francisco 49ers and Green Bay Packers both have a win total of 10.5 wins, but the Packers have longer odds on the over (ie +150 vs -110), then the market is actually saying that it expects the 49ers to have more wins on average.
Additionally, using win totals alone ignores the fact that wins are a partial function of strength of schedule. Using the same example above, it's possible that the Green Bay Packers are actually the better team, but just happen to face a significantly harder set of opponents themselves.
To solve both of these problems, nfelo uses "Win Total Rankings" to determine strength of schedule.

Win Total Rankings -- Making Schedule Projections Accurate
Win Total Rankings start by adjusting all win totals for price to determine the true expected win totals for each team. These win totals are then fed through an optimization that uses actual schedules to determine the team ranking for each team that most accurate predicts the price adjusted win total.
As shown in the graphic below, this approach is the most accurate way to determine how good each team is, beating out the likes of raw win totals, previous year point differential, and advanced metrics like DVOA: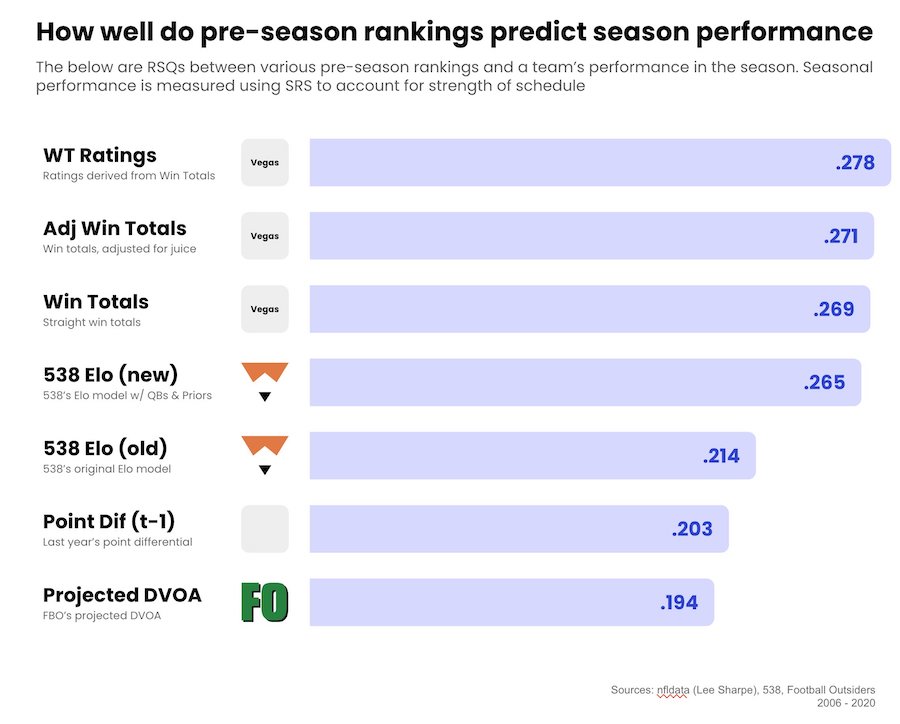 These ratings are then fed back into the NFL schedule to determine the average quality of opponent faced by each team, resulting in much more accurate strength of schedule projections.
Strength of Schedule Table Functionality
By default, the table shows the strength of schedule for the current season, sorted from the toughest schedules to the easiest schedule. Additional seasons can be added using the filter dropdown.
In addition to the pre-season projected strength of schedule, the table also shows the actual strength of schedule played by the team and the strength of schedule of the team's remaining opponents. Comparing these different versions of schedule strength can reveal interesting insights. For instance in 2022, the Kansas City Chiefs were projected to have one of the toughest schedules ever, but ended up playing the 6th easiest schedule that season.
Since Win Total Rankings are a pre-season projection, a team's ranking is updated in the season by looking at how well they've actually played and how good (or bad) their opponents actually were. To account for shifting team quality, these updated rankings are what's used to determine the remaining strength of schedule metric.